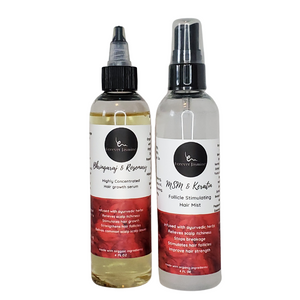 Are you looking for products that promote growth? If so make sure the products help to stimulate blood circulation because that's what PROMOTES the growth!
Our Growth Bundle is the perfect combination of our 2 best selling products. The MSM & Keratin Follicle Stimulating Hair Mist and Bhringaraj & Rosemary Hair Growth Serum. These two products are packed with powerful ingredients that help with maintaining a healthy scalp, stimulate blood circulation to scalp, relieve itching and flaking, as well as helps to soften new growth and strengthen your strands. 
Spray the MSM & Keratin Follicle Stimulating Hair Mist onto your scalp first and gently massage onto your scalp. Then apply a few drops of our Bhringaraj & Rosemary Growth Serum onto your scalp, and gently massage making sure to show TLC where hair is thinning or missing.

Recommended Use
At least 3 times per week. To maximize result sooner, apply daily or every other day.
Check out using SEZZLE and get it today for $7.50 NO CREDIT CHECK NECESSARY!
Ingredients:
Bhringaraj & Rosemary Hair Growth Serum: Organic Castor Seed Oil, Organic Soybean Oil infused with Organic Amla Extract, Organic Bhringaraj Extract, Organic Brahmi, Organic Rosemary, Organic Comfrey, Organic Nettle, Basil, Passionflower, Sulfur, Hibiscus Extract, Peppermint Essential Oil, Lavender Essential Oil. may contain Menthol, Camphor, and Capscium
MSM & Keratin Follicle Stimulating Hair Mist: Organic Aloe Leaf Juice infused with Organic Slippery Elm, Behentrimonium Methosulfate, Cetearyl Alcohol, Hydrolyzed Keratin, MSM, Glycerin, Rosemary Extract, Peppermint Leaf Extract, Yucca Leaf Extract, Horsetail Leaf Extract, Nettle Leaf Extract, Melissa Leaf Extract, Bamboo Extract, Allantoin, Amla Fruit Extract, Biotin, Phenoxyethanol, Benzoic Acid, Dehydroacetic Acid, Hibiscus Extract, Vitamin B5, Peppermint Essential Oil, Lavender Essential Oil. may contain Menthol
DISCLAIMER: Products contain herbs and essential oils, it you are allergic to these types of ingredients please don't use the products. We are not liable or responsible for illness or allergic reaction. Please read instruction and always do the 24 hour skin test.

Content on this site is for educational purposes and is not a substititue for advice from a licensed health-care professional. When purchasing our products, always read labels, ingredients, and directions before using a product.
Statements regarding our natural products have not been evaluated by the FDA, and these products are not intended to diagnose, treat, or cure any hair condition
Straight hair
So before purchasing these products I hadn't realized it was catered to really curly hair, so I had to make adjustments to the routine because my hair (straight and super long) would look greasy after applying them in the day. So now I wet my scalp and use both of these products before bed, and wash when I wake up. I used to have awful dandruff but now that's gone, and my hair is so flipping smooth it's nuts! It's so easy to style without the constant frizz and flyaways my hair was notorious for. I will definitely be buying these, and your leave-in conditioner, again. Thank you soooooo much!