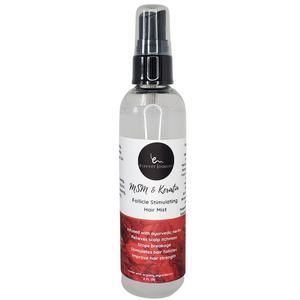 MSM & Biotin Restorative Hair Mist
MSM & Biotin Restorative Hair Mist is an herbal infusion of ayurvedic herbs, hydrolyzed keratin, biotin and MSM for strength and repairing damaged hair types. MSM & Biotin Restorative Hair Mist can be sprayed and massaged directly on to the scalp and on the hair to combat breakage and restore hair back to a healthy state. Gentle enough for daily use, this aloe juice based hair mist contains essential oils for soothing the scalp and the senses. Excellent at improving the overall condition of brittle hair.
Relieves scalp itchiness

Stops breakage

Stimulates hair follicles

Improve hair strength

Gentle enough for everyday use
Check out using SEZZLE and get it today for $3.25 NO CREDIT CHECK NECESSARY!
Instructions: Shake well and spray and massage directly on to scalp and hair. Do not rinse.
Organic hair product. No sulfates, parabens, or formaldehyde.
Daily head massages also promote blood circulation to the area & encourages faster hair growth.
Wonderful for strengthening, softening, and moisturizing, natural, relaxed, and transitioning, dry, damaged, overly porous hair types.
KEY INGREDIENTS
Aloe Vera- Promotes hair growth, prevents itching on the scalp, reduces dandruff and conditions your hair.
MSM-

is known as a sulfur-rich compound with anti-inflammatory properties.

 Helps hair growth by lengthening the growth phase of the hair cycle. Stimulates blood circulation. Works with biotin to help build strong hair.
Biotin- 

Biotin is a B vitamin often recommended for hair health. Biotin is said to be able to help thicken hair, increase fullness, and add shine.
Ingredients: Organic Aloe Leaf Juice infused with Organic Slippery Elm, Behentrimonium Methosulfate, Cetearyl Alcohol, Hydrolyzed Keratin, MSM, Glycerin, Rosemary Extract, Peppermint Leaf Extract, Yucca Leaf Extract, Horsetail Leaf Extract, Nettle Leaf Extract, Melissa Leaf Extract, Bamboo Extract, Allantoin, Amla Fruit Extract, Biotin, Phenoxyethanol, Benzoic Acid, Dehydroacetic Acid, Hibiscus Extract, Vitamin B5, Peppermint Essential Oil, Lavender Essential Oil. may contain Menthol
DISCLAIMER: Products contain essential oils, it you are allergic to these types of ingredients please don't use the products. We are not liable or responsible for illness or allergic reaction. Please read instruction and always do the 24 hour skin test.
Content on this site is for educational purposes and is not a substitute for advice from a licensed health-care professional. When purchasing our products, always read labels, ingredients, and directions before using a product.
Statements regarding our natural products have not been evaluated by the FDA, and these products are not intended to diagnose, treat, or cure any hair condition.
Forever Jasmine LLC will not be held responsible if irritations/breakouts occur.
Good Stuff!
Good stuff! I am having some thinning around my edges so I started using the follicle mist along with the oil drops. I have seen great results over the past month. I purchased a bundle set and started using the products in my children's hair as well. Let's get in this curling jelly! I have bought many different brands of curling jelly and this is the first one that actually does what it is supposed to do! No flaking or turning the hair white, it's light as well so it doesn't leave that sticky film on your hair. Both of my children are naturally curly so these products help me to maintain their natural hair needs proficiently! Would definitely purchase again in the future:)))
A must have
I have been using this product now for 2 weeks & I LOVE the way it leaves my hair soft & manageable. Even if I so noting to my hair it is still soft.
Hair mist
I luv this hair mist! It makes my hair feel so refreshed! I even use it on my boys locs! Thanks Jas!
Will definitely buy it again...