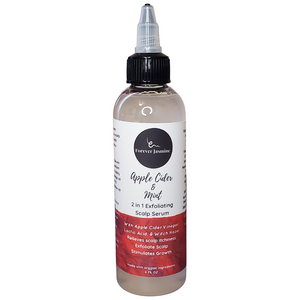 Apple Cider & Mint Exfoliating Scalp Cleanser (2 in 1)
Revitalize the scalp by gently exfoliating and polishing away debris, dry skin and product by loosening accumulated buildup on the scalp's surface. This trio of alpha hydroxy acids is a blend of kiwi fruit, sugar cane and organic apple cider vinegar and is an excellent solution for those who wear hair extensions, locs, or who may need a gentle scalp cleanser in between hair wash days!
Mentholated to sooth itchiness and irritation, this product not only revitalizes the scalp, but also smoothes the hair cuticle to prevent frizzy roots while also softening your hair. As an added bonus, we've infused this product with organic rosemary, gooseberry and stinging nettle to encourage healthy hair growth while keeping the scalp clean and moisturized. 
Offered in an easy to use serum. 
Instructions: Shake well. 
Leave-in Anti Itch Serum: Shake well apply on to scalp (roots) and massage with finger tips where scalp is itchy, dry, or flaky.
Exfoliating Cleansing Serum: Before shampooing, section hair and use nozzle to apply directly to scalp. Massage on to scalp. Leave on for 10 minutes then rinse. Follow up with our Rosemint Shampoo.
Hot tip: For thick or curly hair, section and tie hair into several parts then use the nozzle to apply directly to the scalp. For box braids and twists, apply to the scalp row by row.
Wonderful for all textures in need of moisture, scalp exfoliation, growth stimulant, and hydration. Can be used as an anti-itch serum in between braids, locs, and extensions.
KEY INGREDIENTS
Lactic Acid- This gentle acid exfoliates and hydrates your scalp all at once. It breaks down dead skin, dissolves product build up, and helps improve the scalp's natural moisture levels. For less itchiness and irritation.
Witch Hazel Distillate-

Helps skin that's itchy and irritated. Used before washing, it soothes even the most sensitive of scalps.

Organic Apple Cider Vinegar-

Apple cider vinegar is praised for being rich in vitamins 

and minerals good for hair, like vitamin C and B. Some also claim it contains alpha-hydroxy acid which helps exfoliate scalp skin, and that it's anti-inflammatory, which can help with dandruff

.
Ingredients: Organic Aloe Juice infused with Amla Fruit, Organic Slippery Elm, Organic Marshmallow Root, Organic Apple Cider Vinegar, Hydrogenated Castor Oil, Peppermint Leaf Extract, Rosemary Leaf Extract, Witch Hazel Distillate, Lactic Acid, Kiwi Fruit Extract, Bilberry Fruit Extract,  Sugar Cane Extract, Sugar Maple Extract, Orange Fruit Extract, Lemon Fruit Extract, Lauric Acid, Cellulose Gum, Menthol, Pro-Vitamin B5, Phenoxyethanol, Benzoic Acid, Dehydroacetic Acid, Citric Acid 
DISCLAIMER: Products contain essential oils, it you are allergic to these types of ingredients please don't use the products. We are not liable or responsible for illness or allergic reaction. Please read instruction and always do the 24 hour skin test.
Content on this site is for educational purposes and is not a substitute for advice from a licensed health-care professional. When purchasing our products, always read labels, ingredients, and directions before using a product.
Statements regarding our natural products have not been evaluated by the FDA, and these products are not intended to diagnose, treat, or cure any hair condition.
Forever Jasmine LLC will not be held responsible if irritations/breakouts occur.