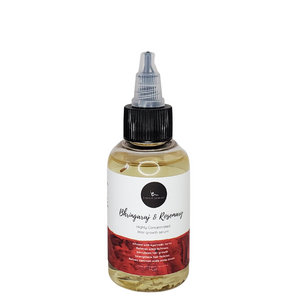 Brahmi & Rosemary Hair Growth Oil
Brahmi & Rosemary Hair Growth Oil is an herbal infusion of ayurvedic herbs, sulfur, organic castor seed oil, and vitamins, this natural blend was created to improve the condition of the scalp and stimulate healthy hair growth.
conditions scalp
relieves itchiness
relieves common scalp issues
improves length retention
stimulates growth
softens new growth
gentle enough for everyday use
Check out using SEZZLE and get it today for $3.25 or $5.00 NO CREDIT CHECK NECESSARY!
Instructions: Shake well and massage a small amount on to scalp daily or as needed. 
Organic hair product. No sulfates, parabens, formaldehydes.
Daily head massages also promote blood circulation to the area & encourages faster hair growth. Maximize benefits by also using as a hot oil treatment.
Wonderful for dry, problematic, itchy, irritated scalps, or those in need of a hair growth stimulant.
KEY INGREDIENTS
Bhringaraj-  rich in vitamins and minerals. It contains vitamin E, Vitamin D, Magnesium, Calcium, and Iron. Also has antimicrobial and antifungal properties that can help reduce dandruff. Also has anti-inflammatory properties, which can help with skin irritations on the scalp.
Rosemary-stimulates blood circulation to the scalp, promoting hair growth.

 Rosemary oil helps to clean hair follicles by unclogging them. Clogged follicles often cause problems such as dandruff. It is known to thicken hair and add shine and is often used by people with thin and dull hair.

Sulfur- lengthens the growing phase resulting in longer hair. S

ulfur has also been shown to help treat and relieve the symptoms of psoriasis, eczema, dandruff and more

Brahmi-

 helps provide strength and nourishment through the scalp, strengthening the blood vessels; thus, oxygen and nutrients stimulate hair growth and 

prevent hair loss

. The alkaloids in Brahmi bind to the proteins in the hair shaft producing stronger and thicker hair.
Ingredients: Organic Castor Seed Oil, Organic Soybean Oil infused with Organic Amla Extract, Organic Bhringaraj Extract, Organic Brahmi, Organic Rosemary, Organic Comfrey, Organic Nettle, Basil, Passionflower, Sulfur, Hibiscus Extract, Peppermint Essential Oil, Lavender Essential Oil. may contain Menthol, Camphor, and Capscium
DISCLAIMER: Products contain herbs and essential oils, it you are allergic to these types of ingredients please don't use the products. We are not liable or responsible for illness or allergic reaction. Please read instruction and always do the 24 hour skin test.
Content on this site is for educational purposes and is not a substititue for advice from a licensed health-care professional. When purchasing our products, always read labels, ingredients, and directions before using a product.
Statements regarding our natural products have not been evaluated by the FDA, and these products are not intended to diagnose, treat, or cure any hair condition.
Forever Jasmine LLC will not be held responsible if irritations/breakouts occur.
Works amazing
I came to jasmine because my significant other was experiencing some bald spots. Today, he has none. He uses it religiously and his hair is looking better than it ever has.
Must Have!!!
So I started using the hair oil and follicle mist on May 23rd. It said guaranteed results in 2weeks and I put it to the test. Anxiously, I took a picture a day early and LOOK AT GOD!!!! My hair is already starting to fill in. Y'all know I'm not vouching for anything I haven't tried myself and her products are a miracle in a bottle. Literally one spray of the mist and 3 dabs of oil every morning and BOOM I'm back in the game. My edges coming back like WHAT HAIR LOSS BIHHHH?!?!? FR Though y'all hit up Jasmine Monique for your black owned hair care products. Forever Jasmine is a must when you mentioning hair growth. THIS IS PROOF!!!!
Hair Growth Serum! Love it!
It's about time I order some more!
No more itching
My stress spot is always giving me problems, but since using the hair growth serum I have not had to claw my scalp to death. I can tell that the hair is thickening in that area also.