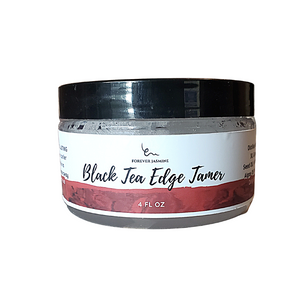 Black Tea Edge Tamer provides a strong, long lasting hold while promoting healthy edges.  Our edge control contains extracts of Perfect for your curlier, kinkier hair types. Say goodbye to white residue! Leaves hair styled without dryness or flakes. Available in CLEAR or BLACK water based pomade with low oil content.  The black formula helps to cover grey hairs and minimize the appearance of thinning edges. This unique edge control contains black algae, organic black tea, and bamboo water to encourage stronger edges while being manipulated into styles. 
encourages healthy edges


strong hold

flake free

moisture & shine
Check out using SEZZLE and get it today for $2.50 NO CREDIT CHECK NECESSARY!
Instructions: Apply to wet or dry edges, slick back with brush. Rub until dry. Do not rinse. 
Great for LONG LASTING hold and thicker, curlier hair types. Store in a cool and dry place away from direct heat and sunlight.
Ingredients: Distilled water, Organic Black Tea, Ceteareth-30, Glyceryl Cocoate, Hydrogenated Castor Seed Oil, VA/VP Copolymer, Black Algae Extract, Algae Oil, Iron Oxide, Caramel, Phenoxyethanol, Dehydroacetic Acid, Benzoic Acid, Citric Acid
 The blending process causes foaming at the top of the product when mixed at high speeds. The foam rises to the top of the product and gives off a white translucent appearance when solid. Don't be alarmed if you receive your edge control with some foam at the top. It is normal.
DISCLAIMER: Content on this site is for educational purposes and is not a substitute for advice from a licensed health-care professional. When purchasing our products, always read labels, ingredients, and directions before using a product.

Statements regarding our natural products have not been evaluated by the FDA, and these products are not intended to diagnose, treat, or cure any hair condition.
Forever Jasmine LLC will not be held responsible if irritations/breakouts occur.